Voor mijn 21ste verjaardag kreeg ik een tatoeage cadeau van mijn ouders. En niet zomaar één deze is voor mij heel speciaal!
Hoe het begon
In de zomervakantie liepen we met het gezin door het centrum van Bergen op Zoom. Mijn ouders wilde graag nog een tatoeage bij laten zetten dus gingen we langs bij Peetje's Repelsteeltje. Even later liepen we naar buiten en ik zei tegen mijn moeder: "Als je een lotus of mandala laat zetten, laat ik dezelfde zetten". Eenmaal in de auto zei ze: Als we dezelfde laten zetten krijg je die cadeau voor je 21ste verjaardag.
Thuis hebben we op Pinterest en Google gezocht naar wat wij mooi vinden. We kwamen uit op een mandala maar we wilde er wel een die voor ons gemaakt was. We vonden een moeder-dochter symbool dat wij erin wilde hebben. Toen de tatoeage ontworpen was en naar wij hem mooi vonden maakten we een afspraak voor 5 november.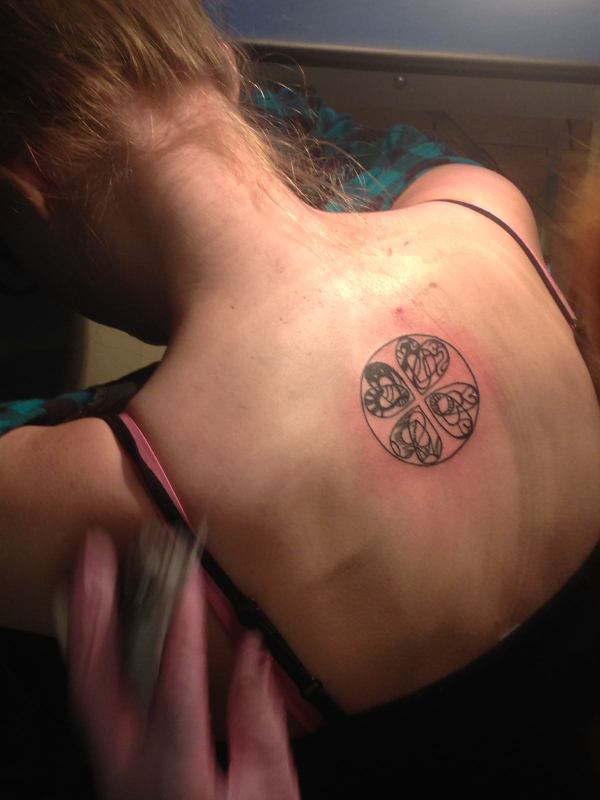 5 november
Ik was op de nacht van 3 op 4 november uitgeweest in Breda en 4 november had ik een personeelsfeestje wat te gezellig was. Ik was dus best een beetje brak. Ik ging als eerste zitten en elke keer gaat er dan weer door mijn hoofd: Wat doe ik mezelf aan. Uiteindelijk heeft het 3 uur geduurd inclusief een pauze voordat hij het helemaal op stond. Soms voelde ik er niks van en op een paar plekken deed het wel echt zeer. Zoals te zien op de foto is mijn huid heel gevoelig. Nadat ik klaar was ging mijn moeder zitten en dat was binnen 3 uur ook gedaan. We zijn allebei heel blij met de tatoeage!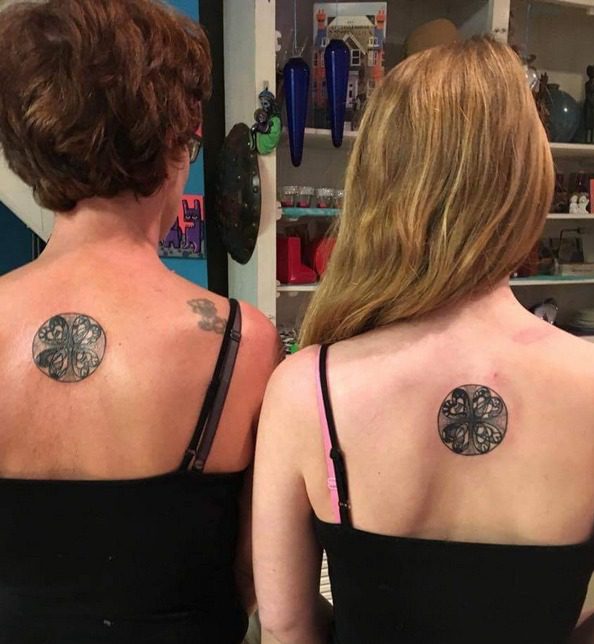 De tatoeage
De tatoeage is een moeder-dochter tatoeage. Het ohm teken wat veel betekenissen heeft zit erin verwerkt. De grote vier harten die je erin ziet met nog een paar lijnen eraan is gebaseerd op het moeder-dochter symbool. Het is heel lastig om hem goed en duidelijk op de foto te krijgen maar hier is het eindresultaat: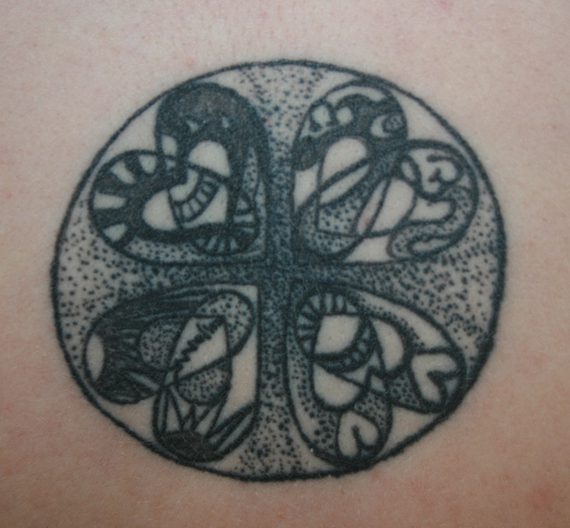 Dit is mijn derde tattoo en zeker nog niet de laatste. Mijn eerste tatoeage liet ik in Zuid-Afrika zetten net als mijn tweede.
Heb jij tatoeages? Zit daar een verhaal achter? Of wil je er misschien ooit nog één?