Ondertussen is het al weer een tijdje terug dat ik mijn tweede tattoo liet zetten. Het ongeveer een week voordat ik Zuid-Afrika ging verlaten. Na de eerste tattoo stond er een tweede op de bucketlist.
Het idee
Samen met een andere stagiair zat ik in het vrijwilligershuis aan school te werken tot we werden afgeleid en het onderwerp op tatoeages kwam. Zij wist al wel wat ze wilde. Ik wist dat ik nog er nog één wilde maar niet wat of waar. Op internet ging ik op zoek naar inspiratie en ik kwam de wel bekende tatoeage tegen met geloof. hoop en liefde, met een hartslag ertussen. Ik vond deze heel leuk maar zelf heb ik niet veel met geloof. Ik ging nadenken wat ik belangrijk vind en waar ik van hou. Zo kwam ik op de muziek,vrijheid en liefde. Dezelfde dag nog zijn we naar de tatoeage shop gereden en hebben we een afspraak gemaakt.
21 maart 2016
We hadden laat op de middag de afspraak en na wat ontwerpen en aanwijzingen was ik tevreden over mijn tweede tattoo. Na 2/3 keer zat hij op de plek waar ik hem wilde hebben en kon hij worden gezet. Ik vond hem meer 'pijn' doen dan de eerste. De eerste vond ik meevallen maar ik denk dat het komt omdat ik me toen voorbereid had op veel pijn en dat vond ik toen meevallen.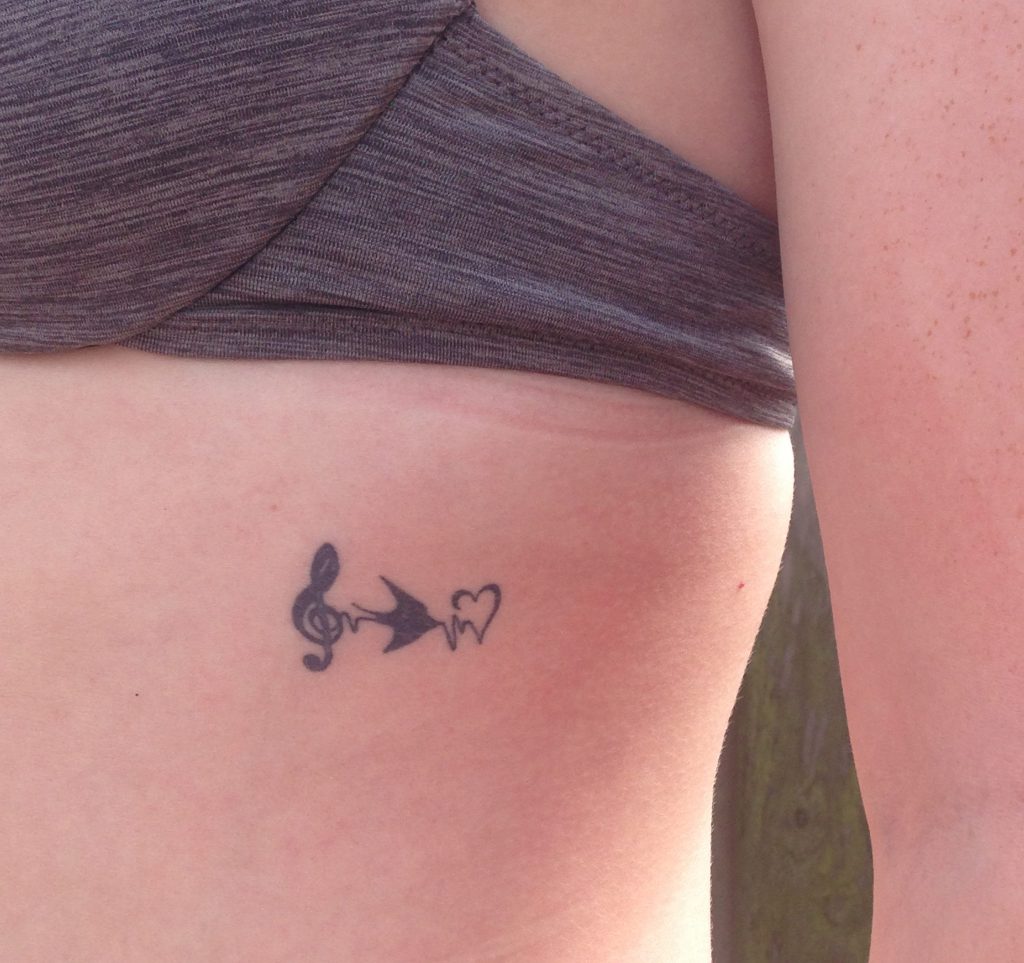 Nou hij zit dus op mijn linkerzij onder mijn bh-band (op de foto draag ik mijn bikini waar ik helemaal verliefd op ben). Hij is niet groot, ik ben meer van de kleine, fijne tatoeages.
Betekenis
Mijn tweede tattoo heeft als betekenis wat ik hierboven al geschreven heb. Het staat voor:
– Muziek, waar ik van hou. Music speaks louder than thousand words.
– Vrijheid, wat ik heel erg belangrijk vind. There's a freedom that everyone deserves.
– Liefde, niemand kan zonder liefde. Piglet: "How do you spell love?" Pooh: "You don't spell it you feel it".
Ik ben er (nog steeds) heel blij mee!
Heb jij tatoeages? Wat betekenen ze voor jou?
Lots of love,
Robin