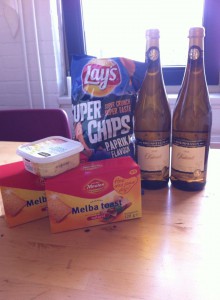 Voordat ik de laatste puntjes op de i ga zetten van mijn talentportfolio wil ik snel nog even iets met jullie delen!
Rond kwart over 12 stapte ik uit de bus. Ik had net gehoord dat docenten bezig waren om de cijfers van het ICC tentamen op internet te zetten. Ik wilde kijken of het er al op stond. Zie ik staan: 6,8. Kijk ik naar de toets blijk het het cijfer van het marketing tentamen te zijn! Ik blijf abrupt stil staan om te kijken of ik het wel echt goed gezien had. Moest mezelf echt inhouden om niet op straat te gaan staan gillen, haha!
Ik heb dus mijn Propedeuse gehaald en dat is reden voor een feestje vanavond. We zouden met het huis al frietjes gaan eten en Frozen kijken omdat heet peet kindje van een huisgenootje een nachtje komt logeren.
Het ICC tentamen heb ik trouwens ook gehaald met een 7,4 (:
Mijn dag, of nee wacht, mijn week kan niet meer stuk!