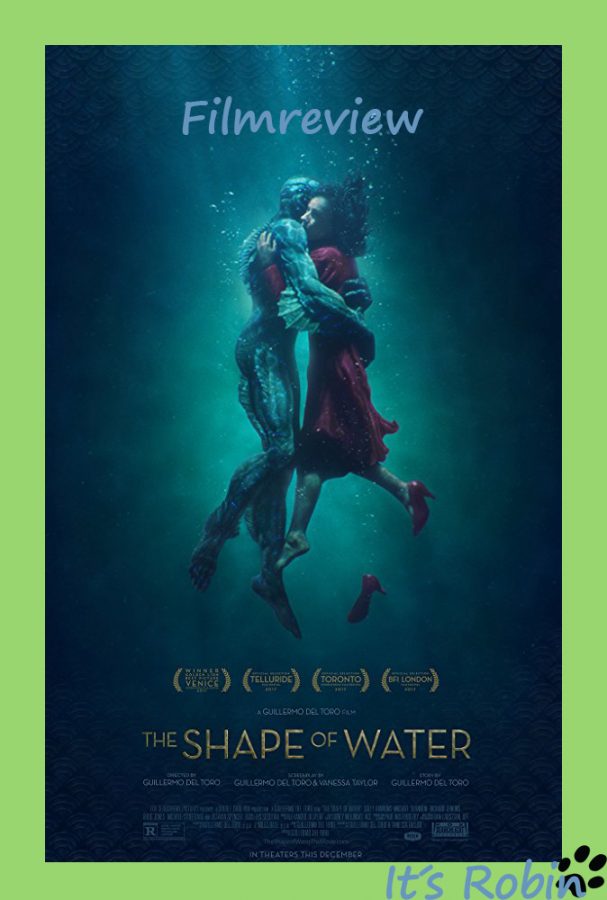 Tijd voor de eerste review met de nieuwe review opzet. The Shape of Water is genomineerd voor maar liefst 13 Oscars. Hiernaast heeft de film twee Golden Globes gewonnen: Beste regie en beste muziek. Ook won de film de 'Gouden Leeuw' tijdens het filmfestival in Venetië. Een film die ik dus graag wilde zien na al deze nominaties en prijzen.
Mocht je benieuwd zijn naar mijn nieuwe opzet: Nieuwe opzet film/serie reviews.
De film: 
"De film speelt zich af tijdens de Koude Oorlog in Amerika circa 1962. In een verborgen en zwaarbeveiligd overheidslaboratorium waar ze werkzaam is, zit de eenzame Elisa (Sally Hawkins) gevangen in een leven van isolatie. Elisa's leven verandert voor altijd als zij en collega Zelda (Octavia Spencer) een geheim experiment ontdekken." Bron: Pathé
Genre: Fantasie, drama.
Kijken als je in de stemming bent voor: Een niet standaard meeslepend verhaal.
Rating x/5:★= hele ster ✩= halve ster
Klik op de categorieën om mijn mening te lezen.
[su_spoiler title="Algemeen ★★★★
✩
" icon="caret"]Naar mijn mening klopt alles aan deze film. Ik heb mijzelf geen seconde verveeld. Het acteerwerk is sterk. Het verhaal vind ik niet standaard, hier en daar een beetje bizar maar dat past bij een fantasiefilm. De karakters in de film komen goed naar voren. Er zit ook diepgang in de bij-karakters. Je moet van dit soort films houden en het kunnen waarderen. Wat mij betreft een must-see voor filmliefhebbers.[/su_spoiler] [su_spoiler title="Verhaal ★★★★" icon="caret"]Het verhaal bevat niet veel spanning maar houd je wel in zijn greep. Het maakt je nieuwsgierig naar hoe het verder gaat. Er zitten wendingen in de film waarbij ik in eerste instantie dacht: "wtf". Dit kan ik juist waarderen want hierdoor is het verhaal niet saai. In het verhaal heeft elk karakter te maken met een thema uit het dagelijks leven wat goed in het verhaal terugkomt. Soms maakt dit een verhaal warrig en leid het af, hier is dat niet het geval, het gehele verhaal klopt. [/su_spoiler] [su_spoiler title="Muziek ★★★★" icon="caret"]Er zit vrij veel muziek in de film dat allemaal passend is bij de scene's. Ik vind dat de muziek zeker een magische en soms ietwat komische toevoeging heeft aan de film.[/su_spoiler] [su_spoiler title="Acteerwerk ★★★★★" icon="caret"]De acteurs vertolken hun rol ijzersterk. Je gelooft iedereen en leeft met hen mee of gaat die persoon juist haten. Ieder karakter dealt met een eigen persoonlijke strijd (of meer). Dit geeft de karakters meer diepgang, wat ik fijn vind.[/su_spoiler] [su_spoiler title="Montage ★★★★" icon="caret"]De overgang naar andere scene's stoort mij niet. Het loopt mooi en logisch in elkaar over. De achtergrond geluiden kloppen. [/su_spoiler]
Heb jij hem al gezien? Ik ben benieuwd naar jouw mening!