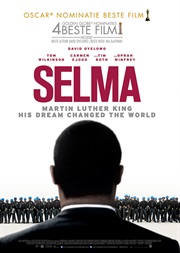 Alweer bijna februari, een maand waarin ook weer veel films verschijnen op het witte doek. Benieuwd welke films er in februari uitkomen en welke ik graag wil zien?
Jupiter Ascending
Vanaf: 5 februari
Een film met Channing Tatum, alleen daarom wil ik er al heen, hihi.
'I love dogs, I've always love dogs'
Night at the museum: Secret of the tomb
Vanaf: 5 februari
Night at the museum 1 en 2 vind ik allebei erg leuk en ben daarom elk benieuwd naar de derde! Daarbij speelt Robbie Williams hierin. Ik vond hem een geweldige acteur.
Big hero 6
Vanaf: 11 februari
Tja, een Disney film en van de makers van Rapunzel en Frozen al redenen genoeg waarom ik hem graag wil zien. De trailer is in het Nederlands maar ik wil hem graag in het Engels zien.
Selma
vanaf: 19 februari
Een film over Martin Luther King en dus over zijn strijd tegen de ongelijkheid van het stemrecht op basis van huidskleur of afkomst. Mensen die strijden voor gelijkheid ben ik altijd voor en ik ben dus ook erg benieuwd naar deze film.
Foxcatcher
vanaf: 19 februari
Wat een geluk nog een film met Channing Tatum! Daarnaast is het ook gebaseerd op een waargebeurd verhaal en dat vind ik altijd erg fascinerend. Wat is er echt gebeurd en wat is erbij verzonnen?
Welke film wil jij graag in de bioscoop zien?