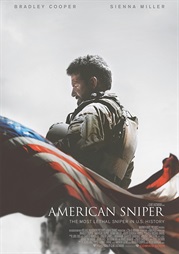 Maart, de maand waarin de Lente begint. Het zonnetje komt steeds vaker weer door maar het is nog steeds weer om in de bioscoop te zitten! De volgende twee films die in maart uitkomen wil ik graag zien:
American Sniper
Vanaf: 5 maart
De eerste keer dat we de trailer in de bioscoop zaten was bij Broken. Ik riep gelijk dat ik hem wilde zien. Naarmate ik meer over het verhaal te weten ben gekomen ben ik erg nieuwsgierig geworden naar de film
Cindrella
Vanaf: 18 maart
Assepoes, assepoes, assepoes! Ik moet altijd aan de muizen denken van de animatie film, haha (:. Ik ben benieuwd wat Disney van deze film gemaakt heeft. Helaas komt ie in Pathé Breda alleen maar in Nederlands gesproken uit. Ik weet dus nog niet of ik hem in de bioscoop ga zien want ik vind het nasynchroniseren helemaal niks!
Verder komt ook nog Insurgent uit in de bioscoop. Of ik deze wil zien weet ik nog niet want ik moet eerlijk bekennen dat ik de eerste nog niet heb gezien.
Lots of love,
Robin