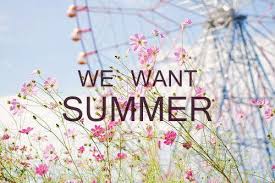 Ik gebruik nog steeds heel vertrouwd mijn iPod van 5/6 jaar terug. Ik haal er eigenlijk nooit muziek vanaf en vandaag klikte ik een oude afspeellijst aan. Er staat dan ook muziek in die ik allang niet meer had gehoord, het zijn voornamelijk zomer nummers en ik werd er zo blij van! Daarom wil ik ze graag met jullie delen.
Sommige nummer zijn misschien niet echt typische zomer nummers, maar wel nummers waar ik het zomer gevoel bij krijg!
Summer paradise – Simple plan
2012

Sun im my pocket – Locnville
2010

Lion in the morning sun _ Will and the People
2011

Plage – Crystal fighters
2012

Summer jam – Sunclub vsThe Underdog Project
2003

Keep your head up – Ben Howard
2011

Drive by – Train
2012

Stereo hearts – Gym Class Heroes ft Adam Levine
2011

Wat is jou ultieme zomernummer?
Lots of love,
Robin