Wat later dan normaal maar hier is hij dan. De quote of the month van Juni!
Het is een stukje uit Eyes Straight Ahead van Ilse deLange: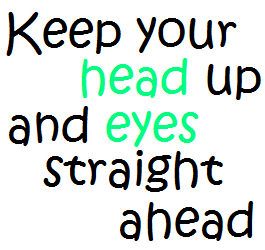 Dit is het refrein van het nummer:
Cause everybody thinks they know
Everything about it
Sticks and stones again and again
But everybody has to know
In the end the truth will show
Try to stay strong, until then
Keep your head up and eyes straight ahead
Het nummer met de hele songtekst vind je hier: Bron
Ik vind het een mooi lied wat voor mij aangeeft dat je jezelf mag zijn en je eigen keuzes mag maken. Ook al denkt iedereen dat hij/zij het beter weet. Of dat mensen vaak alleen maar vooroordelen hebben en uitgaan van hun waarheid. Daardoor nemen ze vaak niet de moeite om je echt te leren kennen.