Ik heb Quote of the month oktober overgeslagen omdat ik het ik het vergeten was. We zijn dat weekend zijn we naar Tsitsikamma geweest en de week erna hadden we het Holiday Program. Nu heb ik er tijd voor gemaakt. Ik wil meer tijd in mijn blog gaan stoppen maar ben nog erg op zoek naar de balans.
Ik wil namelijk niet dat ik het gevoel krijg dat ik 'moet' bloggen.  Ik wil bloggen wanneer ik wil zodat het leuk blijft. Wel probeer ik vaste dagen en vaste tijden aan te houden. Maar goed ik dwaal af, terug naar de quote of the month. Het is alweer november en daarmee komt mijn verjaardag ook steeds weer dichterbij!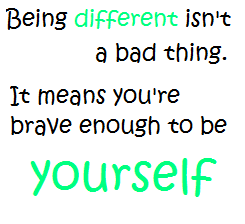 Jezelf zijn in de 21e eeuw. Een blogpost van Irina waar ik volledig achter sta.
Hoe ben je jezelf in een wereld waarin je aan andermans verwachtingen moet voldoen? Hoe weet je wie 'jijzelf' bent?
Iedereen heeft verwachtingen van je, of ze dit nu willen toegeven of niet. Algemene verwachtingen zoals een opleiding of werk, maar ook verwachtingen als dat je iedere week uit gaat van leeftijdsgenootjes. En wanneer je niet aan deze verwachtingen wilt/kunt voldoen dan vindt men dit raar.
Soms weet je al hoe/wie jij bent maar uit je het niet door al de verwachtingen. Je wil dan niemand teleurstellen maar ik denk dat je hierbij aan jezelf moet denken. Word jij er gelukkig van om niet jezelf te kunnen zijn? Lijkt me niet.
Misschien ben je wat introverter dan andere of wat extraverter, wat maakt het uit? Ik ben zelf meer introvert dan extravert. In een groep ben je dan al snel 'het stille meisje'. Omdat ik wat stiller ben betekend het niet ik niet terug praat als je tegen mij praat.
I'm shy at first but I do the stupidest rondom shit when I get comfotable with someone.
Juist als je ziet dat iemand wat stiller is probeer dan is een gesprek aan te gaan met diegene. Zo komt vaak een introvert persoon wat sneller los (in een groep).
Iedereen is anders en dat is maar goed ook. Ik vind het erg dapper als jij jezelf durft te zijn. Heb je een bepaalde kledingstijl die niet veel mensen hebben? Draag het gewoon! Ik denk dat iedereen elkaar wat meer zou moeten accepteren voor hoe iemand is. Als iemand wat 'anders' is hoeft het niet gelijk te betekenen dat diegene niet aardig is/jullie niet dezelfde interesses hebt.
Hoe denk jij over jezelf zijn in de 21e eeuw?
Lots of love,
Robin
Blog van irina: Ordinary Odd