Nu ik weer terug ben met mijn blog vind ik ook dat Quote of the month weer terug mag komen. Elke maand een nieuwe inspirerende quote die een maand op mijn blog te vinden is.
Ik had nog niet nagedacht over een quote en er ook nog niet naar gezocht. Maar toen ik op kerstavond met het gezin naar de uitzending van Serious Request zat te kijken kwam er een zin voorbij waarvan ik dacht: Dat is hem!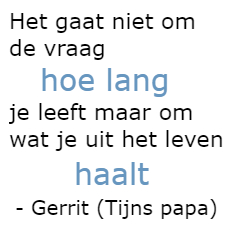 Ik vind dit hem zo mooi en inspirerend! Het motiveert mij weer om meer te ondernemen, te staan voor mijn idealen en waar ik in geloof. Tegelijk doet het mij ook denken aan: 'Life live the fullest'. Haal alles uit het leven wat erin zit. Dit is voor de een anders dan voor de ander en dat is prima. Iedereen heeft daar nu eenmaal andere ideeën over.
De actie van Tijn heeft veel te weeg gebracht en ik vind dat zijn familie er goed mee omgaat. Ik hoop dat ze hem nog een tijd bij zich kunnen houden.
Hou mijn blog in de gaten. Ik heb een nieuwe rubriek en deze maand gaat het over Tijn. Verder verklap ik nog even niks.
Wat vind jij van de quote?