Een paar dagen voordat we op vakantie naar Frankrijk gingen bedacht ik me dat het wel handig was om dan de camera uit te testen die ik dan mee zou nemen naar Zuid-Afrika. Ik vertelde mijn eisen en kreeg de tip om de Olympus Tough TG-850 te bestellen. Ik kwam er achter dat er een nieuwere versie was dus besloot de Olympus Tough TG-860 te bestellen.
Laten we allereerst even voorop stellen dat ik een camera groentje ben. Ik weet heel weinig over fotografie. Ik vertel dus echt uit mijn ervaring en wat ik ervan vind.
Ik kocht deze camera bij Bol.com voor €299,-. Inmiddels is hij nu €267,41. Ik wilde een camera om eventueel ooit mee te vloggen. Een kantelbaar scherm was voor mij een vereiste.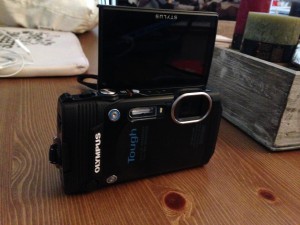 De Olympus Tough TG-860 is super stevig, hij moet een val van 2,1m kunnen overleven. Dit heb ik natuurlijk niet uitgeprobeerd. Daarnaast is de camera tot 15m waterdicht. Verder kan deze camera een druk van 100kg aan en temperaturen tot -10 graden Celsius.
Wat ik erg handig vind aan de Olympus is de WiFi functie. Als je de app 'Olympus image share' download kan je foto's van je camera op je mobiel zetten. Handig want zo kan je het makkelijk via Social Media delen! Via de app kan je de foto's ook nog bewerken of je mobiel als afstandsbediening gebruiken. Je ziet hierbij op je mobiel wat je camera ziet.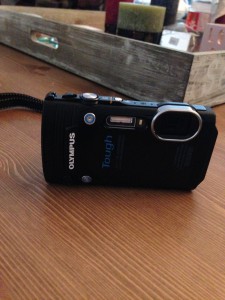 De foto's die hij maakt vind ik mooi. Je kan niet heel ver inzoomen maar als je inzoomt zijn de foto's nog steeds goed scherp. 's Nachts maakt hij redelijke foto's.
De video's die ik heb gemaakt zijn goed scherp en bewegend beeld neemt hij goed op. Het geluid is ook prima. Met de Sportcam-modus is het mogelijk om slowmotion- en timelapsefilmpjes te maken.
Een nadeel vind ik dat de knopjes wat aan de kleine kant zijn. Het is dus wel even wennen maar als je hem veel gebruikt heb je daar geen last meer van.
Voor meer informatie en mogelijkheden verwijs ik jullie graag door naar de Olympus site. Ik moet zelf nog veel functies aan de camera ontdekken maar ben nu al erg tevreden!
Lots of love,
Robin
Even een vraag: Elke keer als ik foto's upload die gemaakt zijn met de Olympus zijn ze niet te zien op mijn blog. De foto is nu via een url ingevoegd maar dit kost meer tijd dan de foto gewoon uploaden. Weet iemand waar dit aan zou kunnen liggen?