28 maart ging de wekker om 6.00 uur en om 6.45 zat ik op mijn fiets onderweg naar het station. Ik ging helpen bij de Dutch Comic Con als vrijwilliger. Het past goed bij mijn studie en eigenlijk wilde ik er al wel heen.

Wat ik vooral heb gedaan is rondgelopen en vragen van mensen beantwoord. Als vrijwilliger wist ik ook niet alles dus ik heb mijn best gedaan om veel vragen te kunnen beantwoorden.
Ik heb een leuke dag gehad en als crew lid mag je ook overal komen. Dat heeft zo zijn voordelen! Ik ben namelijk met GianCarlo Esposito op de foto geweest. Hij speelt in Breaking Bad, Revolution en Once Upon A Time.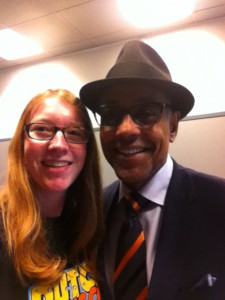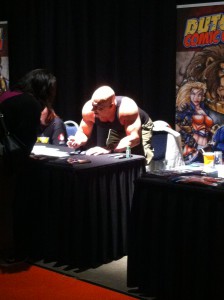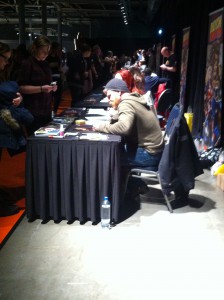 Boven rechts zie je Joseph Gatt. Hij speelt in het vierde seizoen van Game of Thrones en in The 100. De onderste foto is Michael Cudlits. Bekend van The Walking Dead maar ik zelf ken hem van Band of Brothers (review).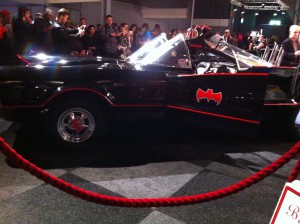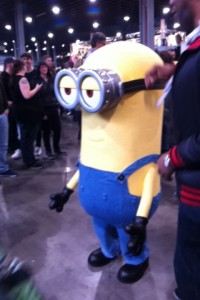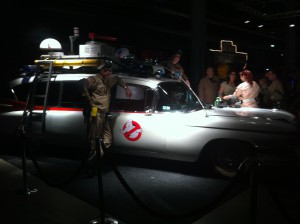 Verder stond de batman mobile er, liepen er Minions rond (ze waren zooo leuk) en de ghostbusters auto stond er ook.
Ik heb veel geleerd van deze dag als vrijetijdmanager. Ik weet nu hoe dingen niet moet maar ook hoe het wel.
Het was een lange en vermoeiende dag. Het T-shirt mocht ik houden en volgend jaar willen ze het weer gaan organiseren! Waarschijnlijk kan ik dan niet omdat ik in april terug kom van stage. Maar dat zien we dan wel, misschien is het dan wel in april! *hoopt*.
Lots of Love,
Robin