Vanmorgen zat ik in de bus op weg naar school. De bus stond best even stil bij een bushalte en ik zie daar op het bankje het volgende staan: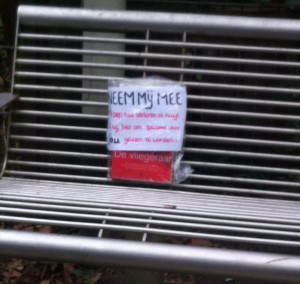 Ik had het nog nooit eerder gezien en ook nog nooit van gehoord. Ik vond het zo leuk dat ik snel een foto heb gemaakt. De tekst is niet erg duidelijk want de bus reed net weer weg. Er staat op:
Neem mij mee. Ik ben niet verloren of kwijt, ik lig hier om speciaal door jou gelezen te worden!
Als ik niet in de bus had gezeten had ik hem meegenomen. De Vliegeraar blijkt een heel mooi boek te zijn.
Ik ben er wat meer over op gaan zoeken hoe dit initiatief heet: Gevonden boek of zwerfboek.
Als je het boek uit hebt of je hebt het niet gelezen kan je het weer vrijlaten. Want dat is de bedoeling. Zo kan ook iemand anders van het boek genieten.
Sommige boeken zijn geregistreerd en andere niet. Als dit wel het geval is staat er een code op en is het de bedoeling dat je de weggever laat weten dat het boek een nieuw thuis heeft. Daarnaast kan je na het lezen vertellen wat je ervan vond en kan je aangeven waar je het boek weer vrijlaat.
Bookcrossing-boek – internationaal
kinderzwerfboek – Nederlands initiatief
Heb jij wel eens een zwerfboek gevonden of doe jij zelf mee aan de uitwisseling?